The Dark Side of the Heart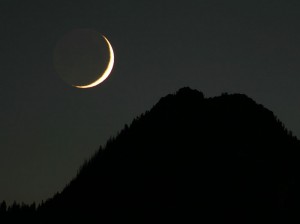 The moon's a lovely lady.
Puts on a pretty face.
She fills with all her radiance
The emptiness of space.
She's a wonder just to look at,
Everybody would agree.
But beneath the side she's showing
Is a side we never see.
Behind her eyes a-shining,
She holds a world apart.
And the nights can be a-blinding
On the dark side of the heart.
It was easy to adore you,
Like a star adores the sky,
Till the stars began a-pouring down,
Like teardrops from my eyes.
I didn't know what hit me,
In my pride before the fall,
You were just another mystery
When I thought I'd solved it all.
But something undercover
That blew us off the charts
Could only be discovered
On the dark side of the heart.
There's a universe inside us
That's hiding from the sun,
When our worlds begin colliding,
You can stand or you can run
From the deep seas of tranquility
Underneath our cratered souls.
Where the half that sits in shadow
Longs to make our hearts a whole.
So here's a note to Venus
From your once-beloved Mars:
The space that came between us
Was the dark side of the heart.
And if a wish could reach you,
Beyond our fallen stars.
It would only be to meet you
On the dark side of the heart.

Words and music © 2002 by Steve Brooks and Frog Records
(512) 440-7668
[email protected]
www.stevebrooks.net
 .