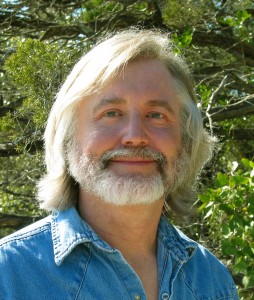 Cross two famous guys named Brooks – Garth and Mel – and you get Austin folksinger Steve Brooks.
His Garth side co-wrote the Slaid Cleaves classic "One Good Year," as well as songs recorded by more than a dozen Americana artists, like Albert & Gage, The Flyin' As, Danny Santos and Oscar-winning actor Russell Crowe. His Mel side wrote a satirical song-a-week for Jim Hightower's nationally-syndicated radio show.
"All writing is storytelling," says Steve, and he tells stories with words as well as music. He's a freelance journalist whose work has appeared in dozens of newspapers and magazines. He's a lay speaker at Unitarian Universalist churches, whose sermons explore the spiritual sides of everything from songwriting to his dog. When he's not working with words, he plays with them. He appeared in 2001 on TV's "I've Got a Secret" as six-time World Pun Champion, and he still emcees Austin's O.Henry Pun-Off.
His own story is full of twists, turns and O.Henry endings. Born in Chicago and raised in York, Pennsylvania, he picked up guitar at age 16 by playing along with a Pete Seeger record. A week before high school graduation, he spent his life's savings on a Martin D-35 that's still his musical sidekick. A week after, he packed himself off to California to study philosophy and punch cows at Deep Springs College, two valleys west of Death Valley. The high desert, together with thousands of miles of exploring America by thumb, awakened his love for the West.
After college, he headed back East, just in time for a nearby nuclear power plant to go haywire at Three Mile Island. On the first anniversary of the accident, he found himself onstage with Seeger, singing some original verses to "This Land is Your Land." After blockading the plant, and being convicted as one of the "TMI Nine," he made his way from activism into journalism, as a reporter for the New Orleans Times-Picayune.
But the twin sirens of songwriting and open spaces called him to Texas. He quit his day job in 1990 and headed for Austin, where he honed his craft performing at legendary clubs like Chicago House and the Austin Outhouse. Since then, his musical output has included six CDs. He's had music in two films and appeared in two more, including the 2004 release Barbecue: A Texas Love Story. More than 100 Folk and Americana stations have spun his last two albums, Chasing Grace and I'll Take You Home.
Says Songwriter's Circle magazine, covering Steve at the Kerrville Folk Festival: "The man is Steve Brooks and his mission most of the time: to be the poet, protester, songwriter, activist, political satirist, humorist that he is. No doubt Brooks is one of the most authentically colorful characters in the Kerrville gathering of colorful characters…His color comes out in what he says and what he does – his talk and his walk."
If there's a common thread to Steve's writing, it's that we can change the world when we look at it from a different angle – or from several angles at once. As Steve puts it – a bit more poetically – "A single new star rearranges a whole constellation."
A Few Places He's Played…
OLD TOWN GRAIN AND FEED • Fort Smith, AR

VAGABOND'S • Little Rock, AR

BRIGHT ANGEL LODGE • Grand Canyon, AZ

KULAK'S WOODSHED • Hollywood, CA

COUSIN ANDY'S • Carbondale, IL

THE HIDEOUT • Chicago, IL

RUDYARD KIPLING • Louisville, KY

CARROLLTON STATION • New Orleans, LA

CANTAB LOUNGE • Cambridge, MA

CLUB PASSIM • Cambridge, MA

JOHNNY D's • Somerville, MA

BRYANT LAKE BOWL • Minneapolis, MN

FEDORA'S ON THE PLAZA • Kansas City, MO

LUPUS GENERAL STORE • Lupus, MO

ACOUSTIC LIVING ROOM • State College, PA

 

THE BARKING SPIDER • Cleveland, OH

RADIO CAFE • Nashville, TN

CACTUS CAFE • Austin, TX

THREADGILL'S • Austin, TX

BASTROP OPERA HOUSE • Bastrop, TX

BELTON ACOUSTIC CONCERT SERIES • Belton, TX

LONGHORN CAVERNS •  Burnet, TX

ARHAVEN HOUSE CONCERTS • Cedar Creek, TX

EXECUTIVE SURF CLUB • Corpus Christi, TX

POOR DAVID'S PUB • Dallas, TX

UNCLE CALVIN'S • Dallas, TX

THE OLD QUARTER • Galveston, TX

JP HOPS HOUSE • Houston, TX

ANDERSON FAIR • Houston, TX

URBAN CAMPFIRES • San Antonio, TX