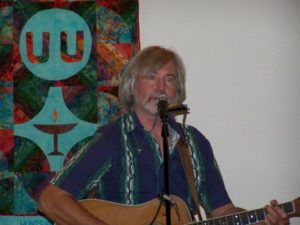 Singer-Songwriter-Punster and…Preacher? No, it's not a typo. A charter member of Austin's Wildflower Church, Steve's a lay speaker in the Unitarian Universalist tradition. Over the last decade, he's spoken from more than 45 pulpits around Texas and beyond.
His trademark is to weave words and music together, appealing to both the head and the heart. He creates services in which the sermon and the songs – and even the hymns – fit together to explore a spiritual subject from many different angles.
Since 2003, when a Galveston congregation first invited him to talk about songwriting, Steve has written a diverse collection of sermons, on topics as thoughtful as the nature of miracles and as light-hearted as his dog Molly. He plans in the near future to compile them into a book. In the meantime, you can sample some of them below. Click on highlighted titles to read the full texts. Farther down, you'll find a list of UU churches that have hosted Steve's words and music:
For the Sake of the Song: Songwriting as a Spiritual Path. Where do songwriters get their inspirations? How is songwriting like meditation or prayer? Steve answers these questions and more, while unearthing the hidden link between "Oedipus Rex" and "Mama Tried." He illustrates his ideas with songs by himself and the patron saint of Texas songwriters, Townes Van Zandt.
Pundamentalism. A deceptively lighthearted look at the history and spiritual significance of the lowly pun, from the six-time champion of Austin's O.Henry Pun-Off. It includes some celebrated punsters, from Shakespeare and Mullah Nasruddin to Jesus, as well as selections from Steve's championship routines, like "Carstianity" and "Tex-Mexistentialism."
Born-Again Pagan. Pagans have gotten a bum rap. The worship of nature is our oldest spiritual impulse, and these days, it might be just what we need to save our planet from ourselves. Steve talks and sings about the Wiccan and Native American paths, and how he found out he was a Born-Again Pagan. Learn about the real old-time religion, and help God get in touch with His feminine side.
For Pete's Sake: The Life and Songs of Pete Seeger. Seeger is the dean of American folksingers and a great American story of artistic courage. Steve tells stories of Seeger's career, his personal encounters with Seeger and, of course, plays his glorious songs. "If I Had a Hammer," "Where Have All the Flowers Gone?" and "Waist Deep in the Big Muddy" were part of the soundtrack of the 'Sixties, but they speak just as eloquently to the tragedies and struggles of our current decade. Come prepared to sing along.
What If Dog Was One Of Us? At the age of 50, Steve showed how old dogs can learn new tricks, by adopting a young dog: Molly, a stray golden retriever puppy with big brown eyes and a bad case of mange. Little did he know that raising her would turn into a spiritual journey, from his first experience at being a parent to the mysteries of communication between human and non-human intelligence and a fresh understanding of love.
In Search of the Miraculous. On May 21, 2011, a miracle did not happen. Or maybe it did. For late-night comedians, the Rapture inspired irresistible jokes. For Steve, it prompted a reflection on the nature of miracles. Is there a Unitarian concept of miracles, as manifestations of the interconnected web of existence? What does the hunger for miracles tell us about ourselves, and why do we look for them in all the wrong places? Steve includes musical reflections from Sting, Leonard Cohen and more.
Pulpits where Steve Has Spoken and Sung:
Wildflower Church, Austin, TX ⋅ UU Fellowship of Bell County, Belton, TX ⋅ Horizon UU Church, Carrollton, TX ⋅ Live Oak UU Church, Cedar Park, TX ⋅ Red River UU Church, Denison, TX ⋅ UU Community of El Paso, El Paso, TX ⋅ First Jefferson UU Church, Ft. Worth, TX ⋅ San Gabriel UU Fellowship, Georgetown, TX ⋅ UU Fellowship of Galveston County, Galveston, TX ⋅ Northwest Community UU Church, Houston, TX ⋅ Unitarian Fellowship of Houston, Houston, TX ⋅ Thoreau Woods UU Church, Huntsville, TX ⋅ UU Fellowship of Kerrville, Kerrville, TX ⋅ UU Church of the Hill Country, Kerrville, TX ⋅ UU Fellowship of Longview, Longview, TX ⋅ First UU Church, Lubbock, TX ⋅ UUs of New Braunfels, New Braunfels, TX ⋅ Community UU Church, Plano, TX ⋅ First UU Church, San Antonio, TX ⋅ San Marcos UU Fellowship, San Marcos, TX ⋅ UU Fellowship of Tyler, Tyler, TX ⋅ UU Church of Victoria, Victoria, TX ⋅ Northwoods UU Church, The Woodlands, TX ⋅ Alamosa UU Fellowship, Alamosa, CO ⋅ Two Rivers UU, Carbondale, CO ⋅ All Soul's UU Church, Colorado Springs, CO ⋅ High Plains UU Church, Colorado Springs, CO ⋅ Columbine UU Church, Columbine, CO ⋅ High Country UU Fellowship, Dillon, CO ⋅ UU Congregation of the Grand Valley, Grand Junction, CO ⋅ UU Church of Greeley, Greeley, CO ⋅ Boulder Valley UU Fellowship, Lafayette, CO ⋅ Namaqua Congregation, Loveland, CO ⋅ Prairie UU Church, Parker, CO ⋅ UU Church of Tallahassee, Tallahassee, FL ⋅ The Unitarian Church, Davenport, IA ⋅ Boone UU Fellowship, Boone, NC ⋅ UUs of Transylvania County, Brevard, NC ⋅ UU Fellowship of Franklin, NC ⋅ UU Fellowship of Hendersonville, NC ⋅ UU Congregation of the Swannanoa Valley, Black Mountain, NC ⋅ Unitarian Congregation of Taos, Taos, NM ⋅ UU Church of Bartlesville, Bartlesville, OK ⋅ UU Church of Lawton, Lawton, OK ⋅ UU Congregation of Tahlequah, Tahlequah, OK ⋅ UUs of Grants Pass, Grants Pass, OR ⋅ Evergreen UU Fellowship, Marysville, WA