Yoga Lady
My only song that's built around a musical pun as well as lyrical ones. I was chatting with my bass player Seymour, who doubles as a yoga teacher, when this chorus popped into my head. It took another 4,000 miles of driving to figure out the rest of the boy-meets-girl story: Cowboy falls for yoga instructor, and neither Western swing nor the yodel will ever be the same.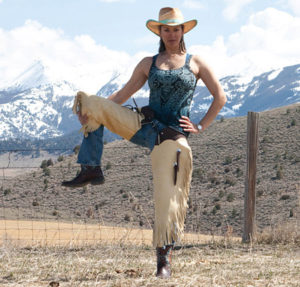 A cowboy came a-riding
'Cross the endless Texas plains.
He hit the town of Austin,
Where folks get kinda strange.
He took a little mosey,
Then he got a little nosey,
And he thought he would explore
The yoga school next door.
He saw a yoga lady.
She was slippery as soap,
Did tricks with her own body
He could not do with a rope.
She was perfectly proportioned
As she went through her contortions.
He dipped a little Cope,
And this is what he spoke:
"Yoga lady,
Yoga lady,
Yoga lady."
"Now could you please enlighten me
Exactly why it is
You take your shapely body
And give it such a twist?
I've rode with lots of dogies,
But not with any yogis.
And tell me, if you can,
Using words I'll understand."
She said, "My thoughts are just like cattle,
Or a bunch of tumbleweeds.
I'm trying to corral them
While they're trying to stampede.
But a little bit of bending
Gives me bliss that's neverending.
I keep those critters tame
With an Om upon the range."
He said, "Sweet yoga lady,
Now I think I understand.
The sound of one hand clapping,
Is the sound of one cowhand."
He dropped his old six-shooter.
He picked up her Kama Sooter,
And soon he found nirvana
With his Mahayana mama.
So the lady and the cowboy,
They bought themselves a ranch.
He's got her roping cattle
While she's got him doing chants.
He does his Kundalini
While she eats her beans and wienies.
And they're finding inner peace
In the Wild, Wild East.

Words and music © 2006 by Steve Brooks
(512) 200-5619
[email protected]
www.stevebrooks.net
.