I'll Take You Home
Tender and tearful true story of Hal and Elaine Hubbard of Vidor, Texas, covering half a century and half the globe. The late couple, teachers in the Seneca Wolf Clan, also inspired "Father and Mother and Me" on my first CD, "Purgatory Rd."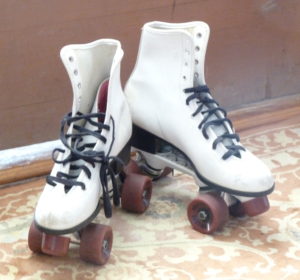 She loosens up the laces on her skates.
An Air Force boy does figure-eights.
He spies her sitting underneath the clock,
And at her feet, rolls to a stop.
She's sorry, but she must be on her way.
He looks her in the eye, she hears him say:
I'll take you home,
No matter where.
No need to walk
Or pay the fare.
I swear you'll never
Be alone,
Cause I'll be there.
I'll take you home.
She's only been an Oklahoma girl.
He takes her halfway round the world.
He keeps a fleet of fighter planes in flight.
She takes dictation, and she types.
They walk the hills above Manila Bay,
And when the war is over, he does say,
Now, the years are going faster than they come.
Turned in his wings. Raised up a son.
He's losing weight and leaning on a cane,
She never hears her man complain.
Three days a week, he's tied to a machine.
She tells him while she waits behind the screen.
A candle burns. She's sitting by herself.
Stares at a face upon on the shelf.
She's dreaming of an evening long ago,
Rode with a boy she didn't know.
And somewhere, in the quiet of her mind.
He's telling her that when it comes her time,
And don't you fear,
When day is done,
'Cause I'll be here.
I'll take you home.

Words and music © 2011 by Steve Brooks and Frog Records
(512) 200-5619
[email protected]
www.stevebrooks.net
.