Chasing Grace
In this sequel to "One Good Year," road song meets spiritual quest meets spaghetti Western.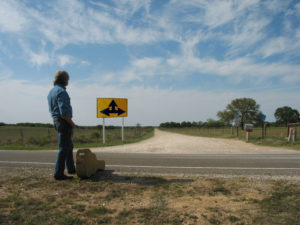 I'm waking up this morning
In the backseat of my car,
Just trying to put together
How I ever got this far.
An unfamiliar shoulder
In an unforgiving place.
Then the daylight hits me,
And I know I'm chasing Grace.
I'm out here on this highway,
'Cause she is out here, too.
I'm walking all the alleys
Every town I'm passing through.
I hear a lot of stories
From the ones who've seen her face.
They ask me where I'm going,
And I say, I'm chasing Grace.
Say, I'm chasing Grace.
Chasing Grace –
Running a thousand miles behind her.
Chasing Grace –
Knowing that I might never find her,
But I've gotta try.
I've gotta try.
Till I can look her in the eye,
And ask her, is she saving me a space?
Chasing Grace.
There's many mothers' daughters
Who've been loving me just fine,
But I can't go back to water
Once I've tried a little wine.
My curse is going thirsty
Till I've had another taste.
I never was a drinking man.
I'm only chasing Grace.
The last time that I saw her,
She was in a leather dress.
I asked her, did she love me?
But she never would confess.
She said the only answer
Was taking her on faith,
And I'd never see her coming
Till I gave up chasing Grace.
Gave up chasing Grace.
I've seen her when I'm dreaming.
She is running wild and free,
Somewhere between the Might Have Been
And Never Gonna Be…
It's another lonely morning
When I shake myself awake,
Head back out on the highway,
Forever chasing Grace.
Forever chasing Grace.

Words and music © 2009 by Steve Brooks and Frog Records
(512) 200-5619
[email protected]
www.stevebrooks.net
.