Austin Found
The city of Austin was chartered in 1839. It didn't take long for old-timers to start bellyaching about newcomers ruining everything. In 1991, I became one of those newcomers. A quarter-century later, I can grouch with the best of 'em. But some days I can still see beyond the traffic, the high-rises and the hipsters to the eternal Austin, where anyone can dance to their own song. It was on one of those days that I wrote this with Alton Rex. BTW, I'm the middle figure in the promo shot for the Austin Conspiracy of Performing Songwriters, the year we welcomed Folk Alliance to town.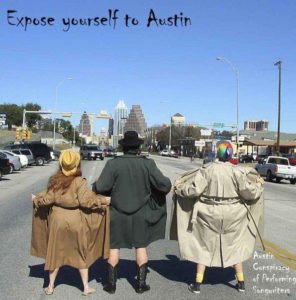 Did my time, up on Main Street.
But I'm kind of a black sheep,
And Main Street
Drove my soul into the ground.
So I rolled down the interstate,
To the shores of a Highland Lake,
In Austin,
And I laid my burdens down.
I once was lost,
But now, I'm Austin found.
Made a wish on a wildflower.
Stole a kiss by a moontower.
There's an oak tree,
I flung my arms around.
Took a dive into Barton Springs.
Took a drive to hear Willie sing,
And in Austin,
I can dance to my own song.
I once was lost,
But now, I'm Austin found.
Austin found:
It's a state of mind.
Austin found:
Without a limit sign.
Austin found:
Where the outlaws find
The place they all belong,
That's where I'm Austin found.
Now every day, a new skyline
A few more cars, a little less time
As we're building
A city from our town.
But every night is still Saturday,
On every stage, the next Stevie Ray,
And the sunset
Still wears that Violet Crown.
We're often lost,
But always Austin found.
And when the outlaws find,
The place we all belong,
We've all been Austin found.

Words and music © 2009 by Steve Brooks and Alton Rex
(512) 200-5619
[email protected]
www.stevebrooks.net
.